From 2009 to 2012 Busajo Onlus took care of fund-raising, the financing and direction of the Smiling Children Town center, a project aimed at street children in Soddo, Ethiopia.
The Catholic mission of Soddo has built a large center on the hills of the city to welcome 200 street children provide, daily care to as many as possible and attempt, wherever possible, a family reintegration.
In 2007 the Bishop of Wolayta, Monsignor Rodrigo Mejia, entrusted Marcella Montresor, director of Busajo Onlus projects, the direction of Smiling Children Town.
Marcella has completed the construction of the Center and she has started the educational rehabilitation and reintegration project for street children.
Over the years Marcella, using the precious collaboration of Busajo, has approached and involved around 500 children in the project, reintegrating most of them into their families of origin.
Since January 2013, the center has moved to the direct management of the Vicariate Cattolico of Soddo, and continues its work of assistance and recovery of street children.
Zaimene Kindergarden, in Shanto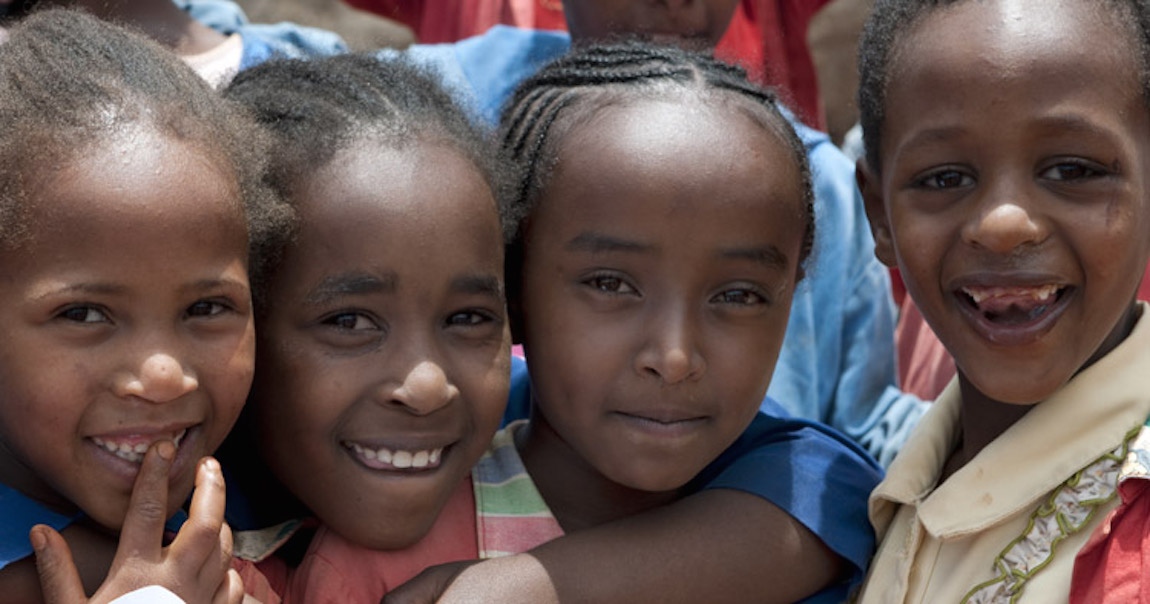 Since 2011, we have started the collaboration with Abba Pascal Girls School, a wonderful all-female reality.
The structure, which accompanies the children from the kindergarden to the equivalent of our maturity, was realized thanks to the passion and competence of Antonio Striuli, a Venetian teacher who, retired, transferred in Soddo with his wife Lina and who is Conducting extraordinary social projects.
Over 900 girls and girls of very poor families attend the school and its sports facilities and the library.
Our association contributed to the project by supporting the expenses for the staff, school teachers and by participating in the completion of sports facilities.
We also printed and dispatched several volumes to Konto.
La scuola materna di Zaimene, Shanto
From 3 km to the center of Shanto (30 km from Soddo), there's Zaimene village, densely populated by really poor families, largely belonging to the Fuga clan. Fugitives are a tribe of untouchables, avoided by all. They are charged with witchcraft, they do low-value jobs and live in particularly miserable homes. In fact, they are a community of craftsmen, they work iron and clay and make skins up.
Crafts, a privilege elsewhere, is a despised work among the Wolayta where you are honored by noble clans of warriors, merchants and peasants. Fugitives are despised and avoided, so that they themselves have lost self-esteem over time and accepted the common perception supinely. In Zaimene there isn't access to drinking water and electricity, there is only a windshield well whose taps are open to the population for an hour and a half on Monday and Friday. People can't shover themselves and this causes diseases (typhoid, malaria, eye and dermatological infections).
To worsen the situation the area is often subject to drought. Parents are passive and unable to take care of their children and often not even of themselves. Children become shepherds for the cows and sheep of the richest and do not attend school; Generally in a family of six children two die before reaching 5 years of age. Parental illiteracy is the major cause of their extreme poverty, illness and social exclusion. In Ethiopia, children are encouraged to attend nursery school for three years, and this preparation period is considered an essential condition to access the first elementary school. In fact, first elementary children have to breast unprecedented difficulties; begin with three languages ​​and two alphabets: the amaric, a national language with 270 spelling marks, the Wolayta language written in Latin alphabet and read like Italian or Spanish and finally the English who uses the Latin alphabet but Is read in a completely different way. If a child does not attend the kindergarten, he or she will repeat two or three times the first elementary school with massive dropout rates. After an estimate, it turned out that around 200 children would be enrolled in this school, so our project was based on the construction of a new school, which was inaugurated in February 2013, and on support for children that put them In the condition of attending kindergarten and the first elementary school cycle (first to fourth).
After the fourth grade, children are able to attend Shanto government schools 3 km away. Immediate help was given to nursery school, elementary school will be considered in a second phase of the project.
Konto Development Women Association
This project was born from the idea of ​​wanting to focus our commitment to the female figure. We thus supported the "project school" for Konto's young girls and in 2014 work was started for Busajo Campus in Soddo, which is expected to end in 2018.
Although women perform a central role in the social and economic life of Ethiopia, for religious and cultural reasons. They occupy a very limited social space. There is not equal opportunity for Ethiopian women, who are often forced to live with restrictions or forced from their fathers or husbands to a state of semi-slavery, aggravated by extreme poverty. In the suburbs of cities and rural areas the phenomenon is more evident.
While the project for Konto's girls deals with young people' education, this is geared towards the development of entrepreneurship of their moms.
Women who become self-sufficient and economically contributing to family livelihood not only improve their living conditions, but become more aware of child protection and education, providing them with a better future in a society where children receive full rights only After puberty. This way, they acquire greater dignity by being respected and treated equally.
After conducting an investigation into the area, women agreed that the most suitable and profitable activities were cereal grinding and baking.
The Konto Development Women Association was officially established.
The local authorities granted a landing of 20 meters to 20, assigned to the commodity.
Ms. Konjit Bushura was elected president and together with Mrs. Aynalem, Almas, and Emebet formed the board of directors.
We are proceeding to the finalization of the construction, the purchase of the mills and the equipment to bake. There is also a multipurpose room to offer ladies the opportunity to work in the family's disengagement times in tailoring and embroidery production. There will also be a room for the sale of bread, also for the use of cafeteria and the sale of artifacts.