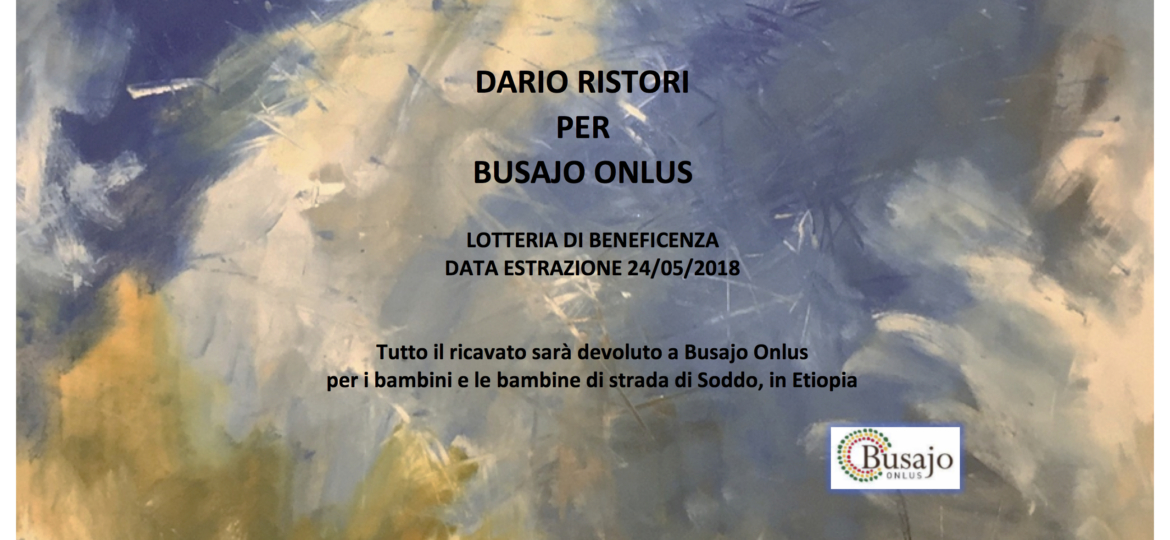 Charity Lottery for Busajo Onlus with works by Dario Ristori – Extraction on Thursday, May 24th at 6 pm
Dear friends,
thanks to the donation of 5 works of art by the Artist Dario Ristori, with great pleasure we invite you to participate at the Charity Lottery in favor of the street children in Soddo, Ethiopia, a useful way to raise funds to be donated entirely to the Busajo Campus Project.
On sale 2000 tickets at € 5.00 each.
The tickets are available at Busajo Onlus Association office, opening hours every morning Mon-Fri 09.00 / 13.00. Ticket sales deadline Monday, May 21th, 2018.
The draw of the lucky numbers will take place on Thursday May 24th, 2018 at 6.00 pm at the headquarters of the Association, you can participate watching the live video on Facebook and hope to be lucky one.
We are grateful to those who will give their contribution, with a small gesture you will do an extraordinary action!
Description of the 5 prizes:
1 "Vibration", oil on canvas, 120x120cm year 2018
2 "Evolution", oil on canvas, 50x70cm year 2017
3 "Lago Superiore di Mantova", oil on canvas, 40x50cm year 2015
4 "Valdarno", watercolor drawing on "Annigoni" paper, 25x35cm year 2013
5 "Vento", dry tip on plexiglass, printed on "Annigoni" paper, 24x18cm year 2009
It is possible to view the 5 works every morning at Busajo Onlus starting on May 2nd, 2018.
Once the winning tickets have been drawn, the winners can contact the Association to organize the collection of the prize or go directly at the office in Via delle Caldaie 14 in Florence within June 24th, 2018.
For information alicelugaro@busajo.org or +39 055264293